Prepping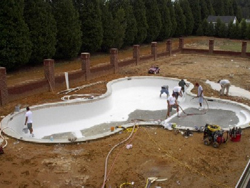 Swimming Pool Prepping. First off let us here at Lifeguard Pool Service say congratulations! You've decided to install an in ground pool, this one upgrade to your home may be the best decision you've made for your home. Having a backyard swimming pool can be the ultimate escape during a hot summer day. You want to make sure you do your homework seeing as how this is a very big project. You want everything done just right and in a timely manner. Lifeguard Pool Service takes the responsibility of educating our customers in order to help you make an educated decision. Installing a backyard paradise is a major undertaking and should be thoroughly planned to avoid mistakes, small and big.

Some points you may want to consider when hiring a contractor. We recommend getting at least three to four bids before you commit. A typical spread between high and low bids should be near 15%. Be careful of any offers that are substantially lower than others. Don't make the mistake of saving a few dollars and hiring a contractor that is not licensed. We have seen this one to many times here in the Valley. When having a pool installed heavy equipment is used and the risk of injury can be high. So by hiring a licensed contractor you avoid taking the risk for there accidents.

You should ask for at least three references and be sure to check them all. Ask about the quality of work and what it was like working with the company. Set your payment plan early on and follow pool installation milestones as markers or indicators for payment installments. We will help you keep accurate records of all pool installation details.